Book Review: Jewish Men at the Crossroads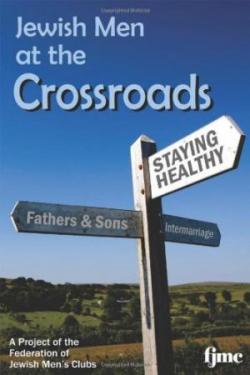 reviewed by Rabbi Goldie Milgram

Jewish Men at the Crossroads takes a dip into the section of the gender pool some now call "masculinism". A publication of the Conservative Movement's Federation of Jewish Men's Clubs, the volume is a collection of essays by Jewish men offering intimate sharing from issues of their current lives.

The intent of Jewish Men at the Crossroads is to stimulate men returning to synagogue life through participation in male support groups. The volume has its problems, such as the absence of talk about the range of masculinities within gender, as in GBTQIA and a stunning absence of essays relating to maleness and social justice. That said, many essays do reflect a poignant, helpful honesty about Jewish male encounters with life's inevitable challenges. Those among us who have been caregivers will surely empathize with the following example:
The last five years of Freyda's life...the last five years of our marriage were difficult, to say the least.I loved caring for Freyda. It was a burden of love...However, our life dramatically changed. Our travel was limited. We could no longer do many of the activities we had grown to love together. Our intimacy was limited to hugging, holding hands, snuggling in bed...but I loved it, I truly loved it. ...The situation at times was intolerable. I was often fatigued, but I could not sleep. I was frequently depressed. I was often angry and would get upset...yelling at Freyda...an innocent being, my love/my soul mate...this was most disturbing to me...--Arnold Miller
In another essay a man with autism brings us into his Jewish life in a way that clearly illustrates the need for heightened understanding of diversity and more rigorous efforts towards changing the social climate of congregations:
I had been praying for God to cure my autism and wondering why God didn't answer my prayer. I realized at that point that I had been praying for the wrong reason. I started to pray for the strength to accept autism and live with joy, laughter and connection. My prayers were answered more richly than I ever imagined. Sometimes I still hate autism, but now I love life more than I hate autism... ...After ten years, we finally left our synagogue and joined a new one where people smile at me even if I am sometimes too loud or excited and no one stares at me like I am a piece of trash...My favorite Jewish holiday is Passover because it is the story of our people's journey from degradation to liberation...--Jacob Artson
The reality of intermarriage is frankly acknowledged. Strong feelings and approaches uncharacteristic of the Conservative Moment's platforms and positions are included:
"I am distraught that many synagogues still will not let the non-Jewish parent participate on the bimah for a baby naming or a bris."--Joshua Kohn
Mazel tov...is he Jewish?...I do understand that for some people, if their child dates a non-Jew, it is a "big deal." But , for me, is that paramount to my daughter's happiness? Or even my happiness? Doesn't a father give up some of his happiness for his children?.. Yes, my children—I consider Josh my son—[they] were married by a rabbi and a minister. No, my granddaughter is not having a naming, though her parents just recently had a ceremony in my home to give her a Hebrew name. And, yes, they are going to be doing a similar type of ceremony in his church. Yes, my granddaughter is going to be raised in both religions....Would I love him more if he was Jewish? No. He is the son I never had. I love him for who and what he is. Plain and simple."--Dave Julis
Unfortunately there are also unchallenged stereotypes and assumptions:
...girls' learning styles...focus on attentiveness, persistence, orderliness, and sedentary work, while boys thrive when they can be physically active and have time to be rowdy...Boys...respond to hands-on activity, competition, challenge, and incentives.--David Weiser
If we are to maintain the religious affiliation of American Jewish men, then we have to preach and teach Jewish men to see introspection, empathy, kindness, noble character, humility and gratitude as male ideals.--Ed Feld
The most telling barrier [to engaging me in synagogue life] is that most men are simply uncomfortable praying.--Jack Chomsky
Jewish Men at the Crossroads—is about what is happening in the lives and minds of some Conservative Movement men. Also among the topics addressed are: Retirement, becoming a caregiver for a declining, beloved spouse, becoming an in-law to someone who is not Jewish, observing the yarzeit (annual memorium) for one's child, recognizing that raising children requires role-modeling and a serious investment of time from both parents, age-related loss of libido, health issues, and having a child in the Israeli army. And a good deal more.

Some sap does rise during essays reflecting on the stereotypes that "manhood is about strength, courage, willpower" and that "...traditional.. male values [are] honesty, courage, decisiveness, responsibility and resilience...," when, for Jews, "success is measured by being a mensch and helping make this world a better place."

But where is rebellion against the oppressions of the workforce and military use of men, and now women, as fodder? Where are strategies for rising up and recalibrating society? These are not to be found so much as several essays that indicate a desire for a better balance of work and family. Fire in the belly is patently lacking. These are essentially really nice men coping with life's dealt hand more so than taking up the mantle of justice being called for by our ancient and contemporary prophetic voices.
Whence References to the Existing Jewish Men's Movement?

Ah, men. Missing is any tipping of the hat to the Jewish men's movement retreats have been happening for decades as led by Yosaif August, Shawn Zevit and colleagues at what is now called the Isabella Freedman Retreat Center in Connecticut. There are many seminal publications these "Hearing Men's Voices" groups might seek out for discussion-- works such as:

Embracing Esau by Rami Shapiro (1991)
Becoming Brothers by Howard and Arthur Waskow (1993)
A Mensch Among Men: Explorations in Jewish Masculinities by Harry Brod (1998),
Legacy of Rage: Jewish Masculinity, Violence and Culture by Warren Rosenberg (2001)
Brother's Keepers: New Perspectives on Jewish Masculinity by Harry Brod and Shawn Zevit (2010)

Also, be sure to look into the work at Moving Traditions (www.movingtraditions.org) of a substantial developmental program for Jewish boys called The Brotherhood. Their research and development sheds a great deal of light on what it can mean to be a Jewish male in the 21st Century.

What of the Other Major Issues Men Face in Western Society
Reflection upon the forces that have created many of the contributing authors of Jewish Men at the Crossroads, is perhaps their own next step. We hear little to nothing about domestic violence, or other violence such as life as WWII vets, or the role of subsequent wars on their masculinity, the unisex/free love of the 1960s, male or boyhood survival in the wake of the soul-searing emasculation of the Holocaust.

Additionally, what of the roles and masculinities of men who bring us glory and/or shame in societies—Madoff? Doctorow? Wiesel? Mamet? Dayan? Spitzer? Carlebach? The Cohn brothers? Brandeis? Gehry? Adelman? Bugsy Siegel? Shamgar ben Anat [gotcha! see Judges 3:31] and infinitely more. No one in this volume addresses matters of social justice, or serving in government other than the military, where men obviously predominate to this day. Bar Mitzvah goes missing, along with any substantial reflection on the effect of the fathers of these men on their perspectives and patterns. Perhaps this will emerge if the program advances.

Are We Seeing Some Backlash Here?

The last sentence of the introduction by Bob Braitman, past president of FJMC asks: "What is a Jewish man?" From there it is a bit disingenuously stated that the problem seems to be that "men have somehow become less visible in both the leadership in many professions and in the volunteer world." Presumably this refers to the arrival of women rabbis, cantors and the preponderance of women who now attend services and serve on boards and committees in the liberal Jewish movements. Though some hold leadership and research positions, the men writing these essays don't appear eager to reclaim the majority position in any of these roles, now that it's been amply demonstrated that there is nothing intrinsically male about leading services and teaching Torah, evolving Jewish law and practice, leading life cycle rituals, or chairing boards. The stories within our very tradition, as at least one author points out, point men toward revisiting what they've drawn from their "father's wells"-- at home and in the stories about men and masculinity within Jewish tradition and contemporary culture.

Jewish Healing and Jewish Men Has Arrived

In many ways Jewish Men at the Crossroads is about a new wave of Jewish men seeking healing, who are not at the innovator fringe but rather becoming newly receptive to its waves and practices. The work of supportive healing and growing at the level of spirit and awareness is crucial to Jewish and humane development. It is encouraging to see that Rabbi Simcha Weintraub appears as a contributing author in this volume, as he is the founder of The National Center for Jewish Healing >a href="http://www.ncjh.org" /a>—Weintraub is a great man to have on-board. For while women are increasingly attaining equal votes and roles, we are being "allowed" to succeed, while Jewish men still have the cultural burden of being expected to succeed.

In closing, one must have empathy in reading this volume. For, as Rabbi Weintraub points out metaphorically that "Jewish men may have stopped breathing!" from the stress and the burden of traditional expectations about their potential to accomplish, innovate, earn and be honored. So, let's end by borrowing from his closing blessing Rabbi Weintraub: "Enjoy breathing with reflection; community with solitude; work with rest."
And let us all say: "Ken Y'hi Ratzon—May this be God's will; Amen."

Note: This article first appeared in the Philadelphia Jewish Voice
Tags: